Like in many years before, in 2021 Top Data Science offered multiple internship opportunities for machine learning and computer science university students. This year we employed 4 interns from the spring to end of the summer season. In this blog post we will present our 'Summer AI Hackathon' project.
During June and July, we formed a hacking team by Pauli Hemmi, a Computer science student at University of Helsinki, Oula Saarinen, ICT Student at Metropolia UAS, supported by Shun Hirai and Timo Heikkinen from Top Data Science.
The goal was to combine computer vision AI with a haptics device to simulate "Detection to Action" theme with a fun use-case. For the haptics device we selected a miniature vibe actuator, Murata Piezo Vibe, thank you very much to Murata for the sponsorship.
The result of our ideation and use-case brainstorming was 'FindMyGlasses', a computer vision app to help people to find their eyeglasses with a smartphone camera and a vibe ring. After all, when you are not wearing your glasses, you need them and at the same time won't see them, so this app provides a handy help 🙂
The solution was designed and developed by Pauli and Oula. The goal was to create a Minimum Viable Demo with a simple data pipeline and using standard machine learning technologies and solutions. For the hardware part, e.g. to control the Murata Piezo Vibe Actuator, we used Raspberry Pi.
In practise, the application works as follows:
Object Detection for eyeglasses and hand from a video feed
Automatically calculating the distance between the glasses and the hand
Raspberry Pi connected to Murata Piezo Vibe Actuator
Creates waveform from distance data sent by detector
Accelerating or decelerating Vibe helps the user to find the glasses
This was a fun project and both of our interns learned a lot about computer vision, machine learning and hardware like the haptics vibe actuator. At the end of the hackathon, the application and demo was presented as part of Top Data Science weekly Learning Club, an internal weekly gathering open for any team member to present and discuss their latest research, work or pet projects.
Murata Piezo Vibe is a very interesting device with multiple target applications, including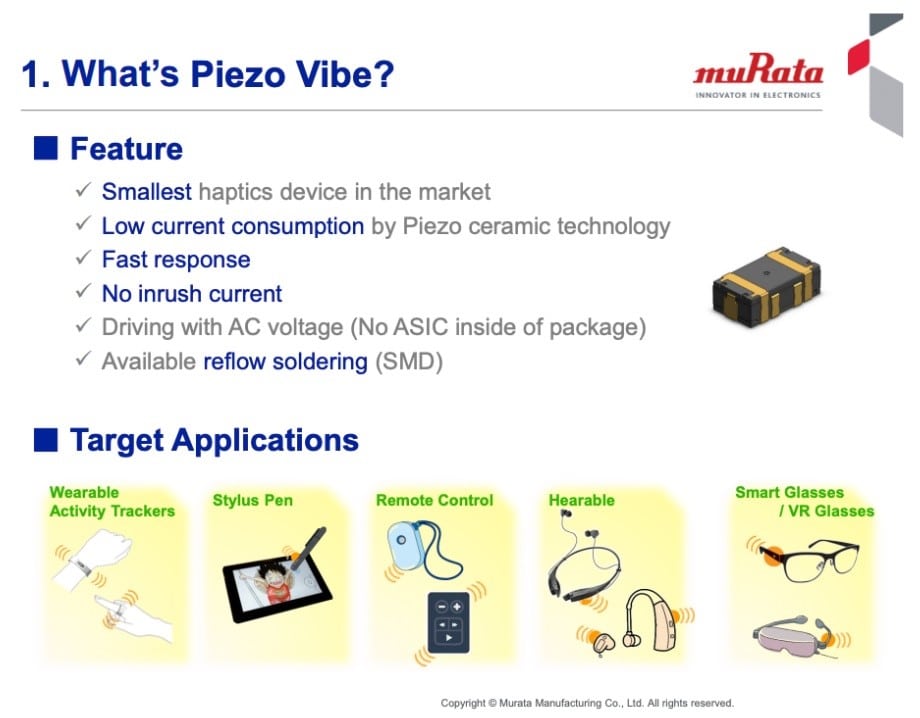 Smart glasses and VR glasses
Wearable activity trackers
Stylus pens
Remote controllers and remote controls
Hearables
According to Murata, it is the smallest haptics device in the market. Other features include:
Low current consumption by Piezo ceramic technology
Fast response
No inrush current
Driving with AC voltage (No ASIC inside of package)
Available reflow soldering (SMD)
Next year we will for sure arrange another Summer AI Hackathon, with the next data science interns and partners.
If you are interested, please keep your eye on our career site and follow us on https://www.linkedin.com/company/top-data-science